Chalk Hill Wines
Jock and Tom Harvey. Wine House Chalk Hill.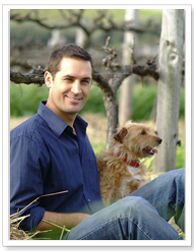 The first vineyards in the place where the Chalk Hill Winery is now located were planted in 1860. The history of the Winery Chalk Hill begins in 1964. The vineyards are located in McLaren Valley. Winery Chalk Hill is a family business. Today the house is run by the third generation of the family, Jock and Tom Harvey. Jock Harvey was born in the family of winemakers and grew up among the vines, so from early childhood he had the opportunity to take an active part in all processes of wine production. Jock earned a bachelor's degree in agriculture from the University of Adelaide. Jock spent a lot of time traveling to the vineyards of Europe, the USA and New Zealand.
Jock controls the entire cycle of growing grapes and all stages of wine production. He also acts as an independent consultant on winemaking at the largest wineries located in McLaren Valley and Adelaide Hills. In addition, Jock teaches enology at the University of Adelaide and is a member of the Board of Winemakers of Australia. Tom Harvey is responsible for commerce and marketing at Chalk Hill, because He was educated in two areas: business management and marketing and management in the wine industry. For a long time, Tom Harvey was Advisor to the Prime Minister of South Australia on foreign trade policy issues. For over 40 years, the Harvey family has been producing premium wines.