Vicomte

STORY
In the heart of Languedoc, between Montpellier and Beziers, north of Set, the Vignoble La Vicomté is located on a hilly countryside, on the north side of the d'Aumelas plateau.
Beginning in the fifth century BC, the Greeks planted vines on these slopes, which overlook
Mediterranean Sea. The Romans grew the vine, known as the "Villa", and exported wines in amphorae throughout the Mediterranean basin.
In the Middle Ages, the neighboring religious communities of the abbey in Aniane and St Guilhem Le Desert, continued the development of vineyards.
In the tenth century, the successors of Guilhem Montpellier seized the lands of La Vicomté d'Aumelas. The Guilhem family, associated with the crowns of England and Holland, exported La Vicomté wines throughout Northern Europe. From the eighteenth century, the Canal du Midi allowed to transport
wines to seaports, from where they were shipped to northern Europe and America. The expansion of the port of Seth favored sales in the south.
Today, in the small villages of La Vicomté, the old monuments of Rome "Villas" still reside, home to the families of winegrowers, who for 25 centuries passed on from generation to generation their passion for grapes and wine. The history and culture of this region, villages, people, is completely connected with the history of viticulture.
Production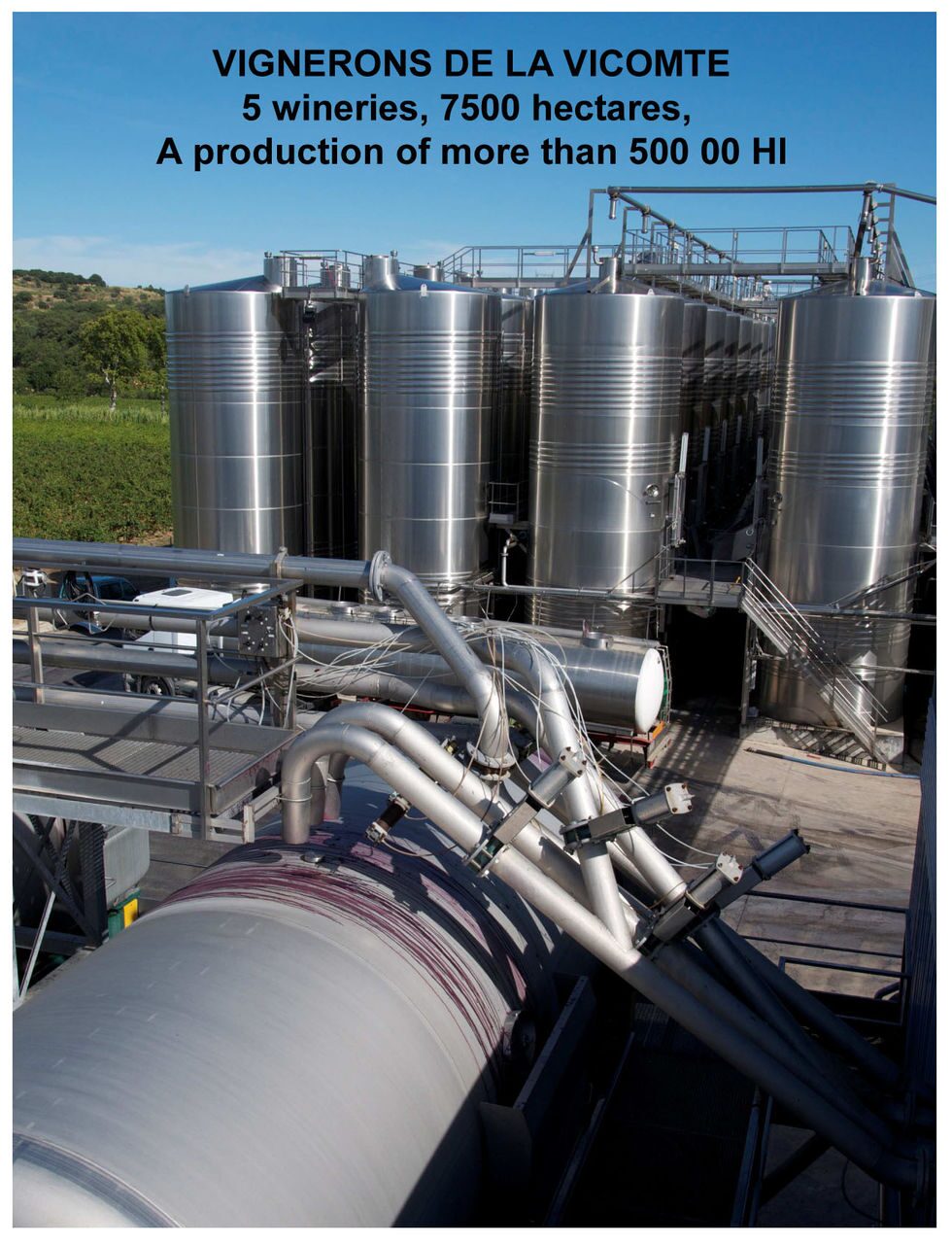 Wine and olive trees are the only crops grown on this limestone soil with hot, dry summers. Perhaps because of these harsh natural growing conditions, winemakers have teamed up to make wines that express the real character of the terroir.
Today, "Vignerons de la Vicomté" brings together producers from 45 villages who grow 7,500 hectares of vineyards and produce more than 500,000 hectoliters of wine every year. Nine oenologists control the work from planting vines to bottling wine.
Vignerons de la Vicomté produces 4000000 bottles, mainly for export (85%), to Europe, Asia and the USA.